Everglades National Park
, the largest subtropical wetland ecosystem in North America, offers amazing outdoor adventures within an hour's drive of Downtown Miami. It's largely a wilderness, but it offers accessible facilities, services and programs to ensure that everyone can experience its wonders. Of course, service dogs are permitted anywhere visitors can go in the park, including campgrounds and trails.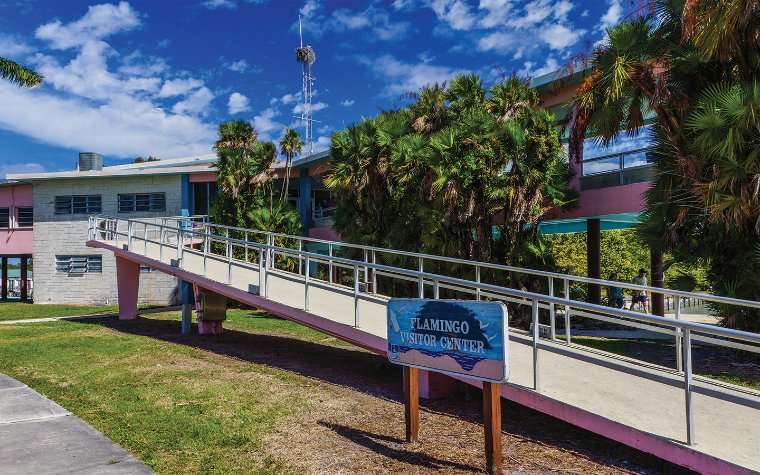 Access For Visitors Who Have Mobility Challenges
Visitors with impaired mobility who aren't traveling with their own wheelchair can request one on a first-come, first-served basis at the three official visitor centers most convenient to the Miami area: 
Ernest F. Coe Visitor Center
, 
Flamingo Visitor Center
 and 
Shark Valley Visitor Center
. The Ernest F. Coe Visitor Center, at the main entrance to the park, in Homestead, has clearly marked, van-accessible parking spaces and a curb ramp from the parking lot to the building. The center has automatic swinging doors operated by a wall switch. At the nearby 
Royal Palm Visitor Center
, the parking lot has clearly marked, van-accessible parking spaces, a curb ramp and a barrier-free path to the trailheads. The Shark Valley Visitor Center, at the park entrance off of Tamiami Trail, also has van-accessible parking spaces and a curb ramp from the parking lot.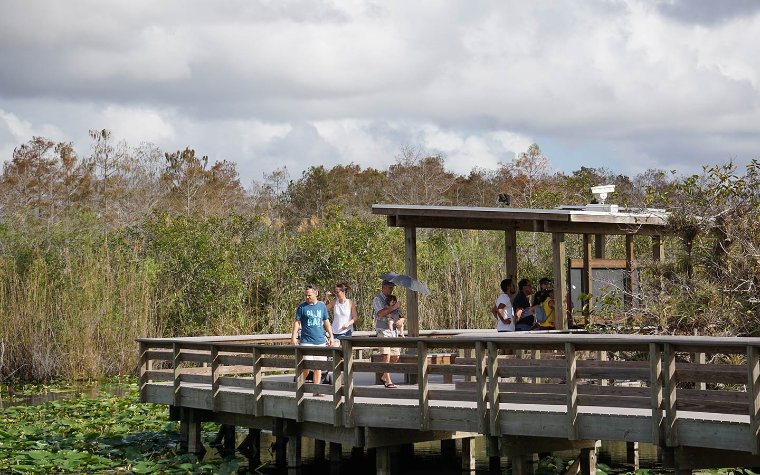 Trails in Everglades National Park that have paved and boardwalk surfaces allowing exploration by wheelchair are the 
Anhinga
, 
Gumbo Limbo
, 
Pineland
, 
Pa-hay-okee Overlook
, 
Mahogany Hammock
, 
West Lake
 and 
Bobcat Boardwalk
 trails. All of these trails or boardwalks are less than three-quarters of a mile long. Other trails at 
Long Pine Key
 and Flamingo used to be two-track roads. These may be passable, depending on the season.
Access For Visitors Who Have Impaired Vision
The Shark Valley, Ernest F. Coe and Flamingo visitor centers offer tactile exhibits and signage in braille. Wildlife displays include 3-D models of alligator backs, eggs and tails as well as other animals.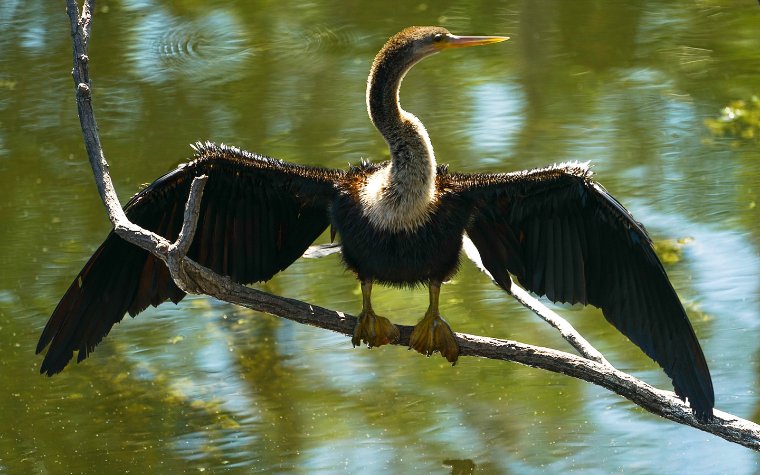 Accommodations For Visitors Who Have Hearing Impairment
Visitors with hearing challenges can enjoy captioned films at the Ernest F. Coe and Shark Valley visitor centers. The Flamingo Visitor Center includes museum exhibits with audio as well as print displays. Assistive Listening Devices are available by request for ranger-led interpretive programs as well as boat and tram tours. Visitor information through TDD is available at 
305-242-7740
.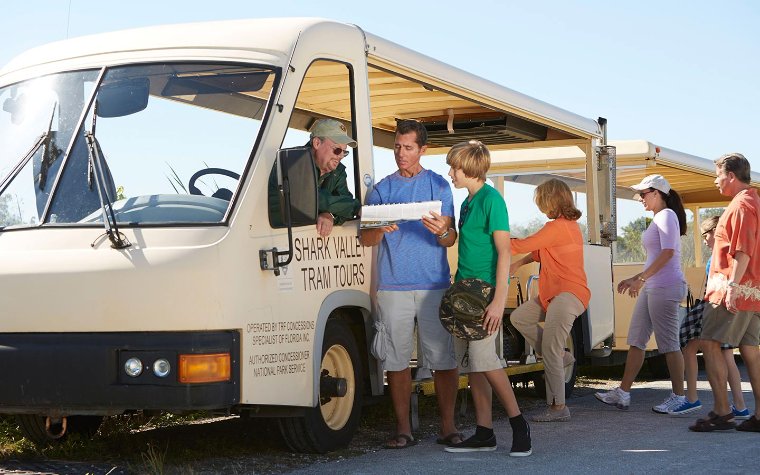 Accessible Tours
Many of the 
concession-led boat tours
 from Flamingo are wheelchair accessible. The two-hour 
Shark Valley Tram Tour
, one of the most popular visitor experiences in Everglades National Park, is accessible because the open-air vehicles have ramps for wheelchairs. The tour includes a stop at a 70-foot-high observation tower, which has a very long, somewhat steep ramp that allows access for wheelchairs. Visitors in non-motorized wheelchairs, however, will likely need help to ascend the ramp. Once at the top, they will take in a view of the park for 20 miles in all directions.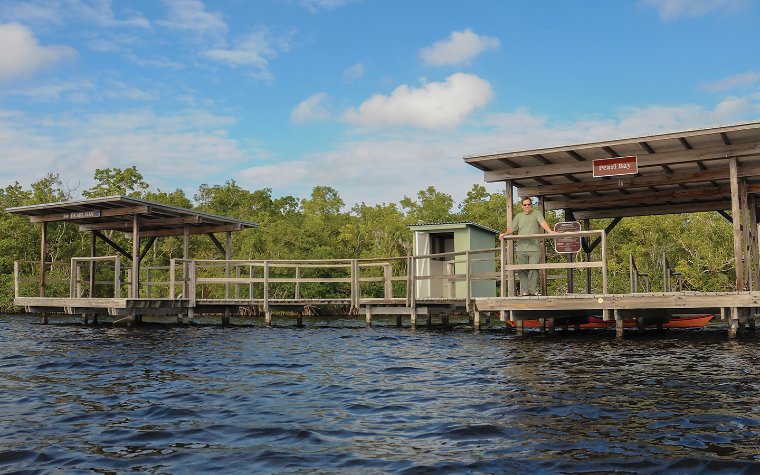 Camping
The 
Long Pine Key and Flamingo front-country campgrounds
 have accessible drive-to campsites with wheelchair-accessible restrooms and parking lots with clearly marked van-accessible parking spaces. There is one 
wilderness campsite
 that is accessible to visitors with mobility impairments. But be aware that the 
Pearl Bay Chickee
 is about a four-hour canoe trip from the main park road. It has handrails, a canoe dock and an accessible chemical toilet. The campsite accommodates six people for one night. A wilderness permit is required. Make reservations through 
Recreation.gov
.
For More Information
For additional information about 
park accessibility
, call 
305-242-7700
.
Shark Valley: Gateway To The Everglades
By Jennifer Agress December 16, 2020 Shark Valley is the first entry point from Miami to the unmatched natural beauty of the 
Florida Everglades
. The area is located just 25 miles west of the Florida Turnpike. Visitors here won't find any sharks, though: Shark Valley is named for two of its estuaries, the Shark River and Little Shark River, nearby waterways that are home to several shark species. Rather, visitors to Shark Valley are likely to encounter alligators, turtles and a wide variety of majestic birds including roseate spoonbills, great egrets and double-crested cormorants. Shark Valley is surrounded by ridges that reach as high as 20 feet above sea level, hence its name. The scenic Shark Valley can be explored in a variety of ways – on tram tours, by bike or on foot.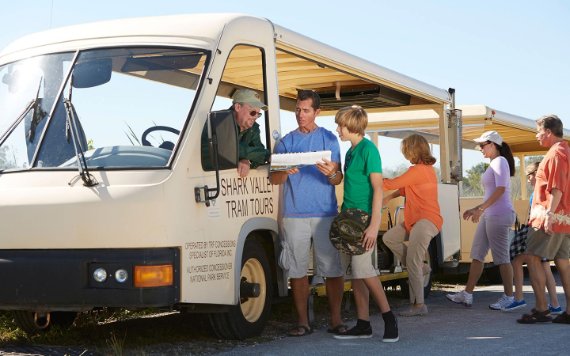 Shark Valley Tram Tours
Trams take visitors on a guided two-hour nature tour of Shark Valley, led by local naturalists who describe the wildlife, plant species and ecological features that make the Everglades so special. The trams make a stop to allow explorers to climb up the spiral ramp to the 65-foot-tall Shark Valley Observation Deck to enjoy panoramic views of the Everglades that extend for 20 miles. These trams are open-air vehicles, perfect for taking photos of the varied wildlife within the sawgrass prairies of Shark Valley. All tram tours are operated by 
Shark Valley Tram Tours
, an authorized concession of the National Park Service.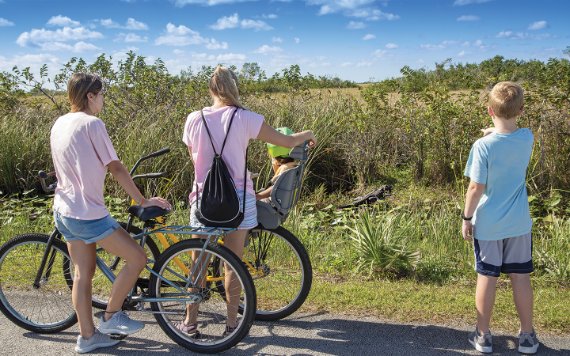 Shark Valley By Bike
Shark Valley's 15-mile, flat, paved road is ideal for bike riding. With so much fascinating wildlife to stop and see, a bike ride through Shark Valley typically takes two to three hours. Traveling on two wheels allows for up-close views of sunbathing alligators and turtles, wading native birds and more. Riders can either bring their own bicycle or rent one from Shark Valley Tram Tours.
Shark Valley Walking Trails
Shark Valley's 
walking trails
 are a great way to immerse yourself in the unique environment of the Everglades. Check out the paved paths and boardwalks of Shark Valley's three major walking trails. 
Tram Road Trail: 
As its name implies, this is the flat, paved road used by Shark Valley Tram Tours. Along the 15-mile loop, climb up the observation tower for panoramic views, and don't miss the alligators, herons, egrets, snail kites, deer, turtles and other 
wildlife watching
 opportunities. The walking portion of the Tram Road Trail starts directly behind the Shark Valley Visitor Center and turns off Tram Road into a hardwood hammock just behind the observation tower. While this is a popular route for walking, it is also used for biking and, of course, tram tours.
Bobcat Boardwalk Trail: Branching off from Tram Road behind the Shark Valley Visitor Center, the 1.5-mile Bobcat Boardwalk Trail winds through a sawgrass slough and tropical hardwood forests on an easy-to-navigate wooden boardwalk. Open all year, it's a great trail for kids and beginners. Allow plenty of extra time for photo-taking opportunities. 
Otter Cave Hammock Trail:
 Starting half a mile behind the Shark Valley Visitor Center, also off Tram Road, the Otter Cave Hammock Trail is a rough limestone trail that meanders through a tropical hardwood forest and passes over small streams via footbridges. Although this out-and-back trail is just a quarter of a mile long, it's known for its plentiful wildlife. The trail is known to flood during the summer, so check with the visitor center before you head out to make sure conditions are good for walking.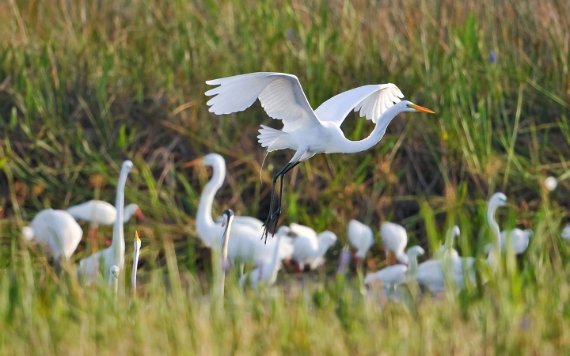 Shark Valley Visitor Center
The 
Shark Valley Visitor Center
 is the only commercial, air-conditioned building in Shark Valley. Visitors should head there to rent bicycles, sign up for a tram tour, meet up with a tour or buy books, postcards and other souvenirs from the gift shop. In the lobby, visitors will find a short film about the Everglades, as well as two educational exhibits: one on plume hunting in the 1800s and the other on water conservation in the Everglades. The visitor center is also the only place in Shark Valley where visitors will find restrooms and vending machines. The Shark Valley Visitor Center is open from 9 a.m. to 5 p.m. daily.
Directions And Parking
Shark Valley is easily accessible from Miami, via the Florida Turnpike and the Tamiami Trail (U.S. 41). Parking is available at the Shark Valley Visitor Center. An entrance fee to the park is charged.
ACCESSIBLE ACTIVITIES IN BIG CYPRESS NATIONAL PRESERVE
By Christian Portilla July 28, 2023