Skip to product information
Unique Perspectives
Point-It! Joystick Mouse
PPJ-S-BT
$1,395.00 USD
Today's date: Sep 23, 2023
Designed by the Disabled
for the Disabled

100% Satisfaction
Guarantee

Lowest Cost Shipping
Quoted in Cart
The attractive, rugged joystick is an extremely high-quality non-contacting type found on powered wheelchairs and is available in a choice of top push-button that operates as a left mouse click or with a removable black ball that can be replaced by 5 optional knobs.
Either Point-It! can be located close to a user or operated on a desktop. With threaded mounting points in its base, it can be attached to a Stiff Arm Mount or Robo Arm Mount and positioned effectively for hand or chin, or mouth control.
| | | |
| --- | --- | --- |
|  Pro vs Classic | Pro | Classic |
| Compatibility | PC, MAC, Android or iOS v13+ | PC, MAC, Android or iOS v13+ |
| Connectivity | Wireless Bluetooth or USB | Wireless Bluetooth or USB |
| Switch between PC/Mac, Smartphone, Tablet, or Smart TV | Up to 8 Devices | Turn off 1st device to connect to 2nd  |
| Li-Polymer Battery | 6 hours of constant use | |
| Dimensions | 75 mm x 115 mm | 115 mm x 105 mm x 34 mm |
| Positioning | Mount for Mouth, Chin or Hand with 2 M4 Screws | Mount for Mouth, Chin or Hand with 2 M4 Screws |

* Pro can be paired with up to 8 devices and includes a special Smart Mode that enables you to choose which device you want to control by simply pressing a dedicated switch or flicking your joystick right.  
Both Pro or Classic support 1 or 2 external Ability Switches which are left-clicked and right-click by default. On Pro, left-click can alternatively be programmed as drag, middle-click, or double-click. Pro right-click can alternatively switch between up to 8 devices in smart mode or change mouse speeds.
On Classic, four buttons are used to operate mouse button functions left-click, double-click, right-click, and mouse speed. 3.5mm jack sockets allow connection of a wide variety of ability switches for Sip-n-Puff, Bite, Foot, opposite hand, elbow, finger twitch, etc. for those who find it difficult to operate the buttons on the unit itself. The Drag-Lock feature allows a user to drag without having to keep the left button pressed.
Wireless Bluetooth 
The Bluetooth version can connect to Windows PCs, Macs, Android, and Apple iOS v13+. Special tablet and smartphone features include shortcut and action keys such as Home, Menu, Back, Drag lock, and more. 
Point-It! Bluetooth has special features for controlling tablet devices and smartphones that support the Android mouse pointer and iOS devices. 
Point-It! is pictured paired with a Samsung Galaxy Note. You can see the mouse pointer in the bottom left of the screen over the menu commands.
Wired USB
Simply plug into any Windows PC, Mac, Linux, Android or version 14+ Apple iOS device and never worry about charging batteries. Gives you full control over the mouse pointer. With Pro, the switch inputs for left and right clicks can also be programmed for different mouse functions such as changing mouse speeds or performing drag operations. Available with either a conical knob with a switch on top or a removable Ball knob.
The Sponge Ball of either version can be interchanged with chin cup, wrist plate T-bar, dynamic knob, or carrot knobs available separately on special request.
Recommended Mounting (see below)
Stiff-arm Mount with 3rd Arm 2" Plate Ball Top to hold Pro
Robo Am Mount to hold your laptop, tablet, or smartphone on your wheelchair and bed at just the right position and angle
Recommended Ability Switches  (see below)
Two Disposable Bite or Puff Switches

Sip-n-Puff Switches with Tubing Kit
Roughneck Dual Pushbutton Switches
Two Twister Switches
Dwell Click
Dwell Click is a companion app to the Point-It! Pro Bluetooth and can be used to control an android device without having to press a button. A highly visible cross-hairs is displayed on the screen and when you "dwell" at a particular location a click is automatically generated. Download Dwell Click from the Google Play Store.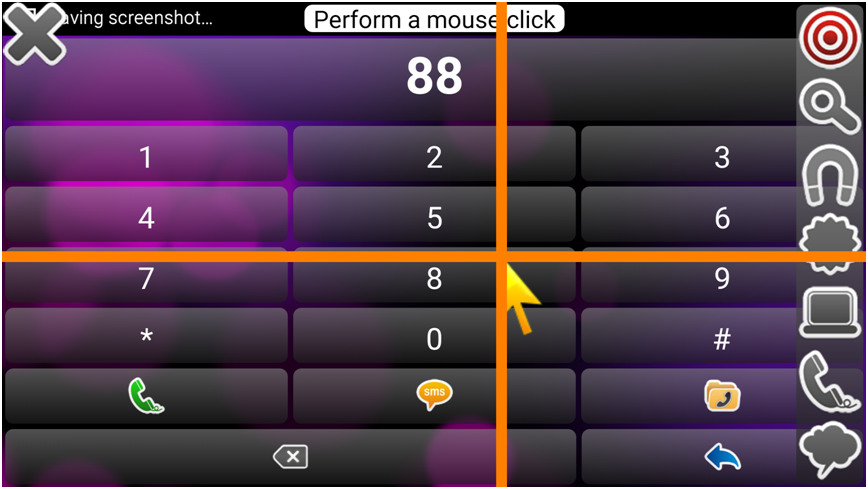 Shipping Policy:
We ship to all locations within the United States and internationally.
In-stock orders are typically processed and shipped within 1-2 business days.
Shipping rates will vary based on the size and weight of the item(s) and the destination.
Expedited shipping options are available for an additional cost.
Related Products
By showcasing products that are frequently purchased together or based on a customer's browsing and purchase history,
it can help drive additional sales and increase order values.
Recently Wishlisted
Add on optional description to this section
Point-It! Joystick Mouse
$1,395.00 USD